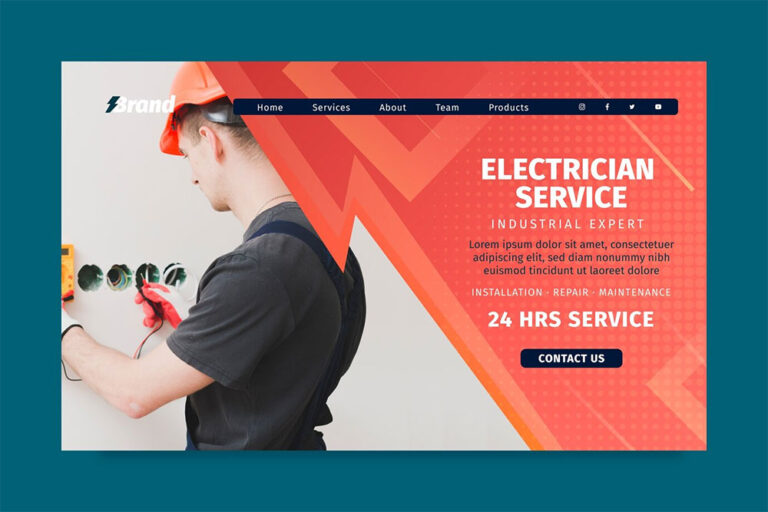 Electrician Website Design UK - Drive More Sales & Leads With a High Ranking Website
Web Design For Electricians – The Significance of Electrician SEO
Are you an electrician in the UK aiming to attract more customers and expand your business? In today's digital age, having a professional, well-crafted website is vital for any business, and for electricians, it's particularly crucial. Why? When people require electrical services, they often need them urgently and typically turn to Google for help.
This is why having a website that ranks high in Google search results is of utmost importance. When your website is prominently featured on Google, you're more likely to be discovered by potential clients, increasing your chances of securing their business.
This is where we come in. We specialise in electrician website design and SEO. We can assist you in creating a website that is both professional and optimised for Google search. We'll also work to improve your rankings in Google search results, helping you attract more customers and grow your business.
With meticulous keyword research and strategic SEO tailored to your local area, your website can achieve first-page visibility on Google for a given keyword under the right conditions. This however can never be guaranteed by any SEO company, watch out for untrustworthy SEO companies that promise something they cannot deliver!
Here are some of the benefits of having a professionally designed electrician website:
More sales and leads: When your website ranks highly on Google, you're more likely to be seen by potential customers and more likely to win their business. With careful and strategic keyword planning, achieving first-page visibility on Google is feasible, provided the competition isn't too high.
Increased brand awareness: A professional website builds trust and credibility with potential customers. It also promotes your brand, making you more visible in the marketplace.
Improved customer service: A well-designed website makes it easy for customers to learn about your services, book appointments, and contact you with questions or concerns.
Cost savings: A website can help reduce advertising costs by providing a central place where potential customers can learn about your business.
Even if you already have a website, it's essential to ensure it's up-to-date and well-designed. An outdated website is likely to have a low ranking in Google search results, causing you to miss out on potential customers.
We can help you redesign your existing website and ensure it's optimised for Google search. We'll also assist in creating new content and keeping your website fresh and relevant.
If you're serious about expanding your electrical business, a professionally designed website is a must. Contact us today to learn more about our electrician website design and SEO services.
Local SEO For Electricians
Optimised for Google Ranking: Our skilled designers and content creators understand the importance of SEO in today's competitive digital market. We meticulously select the best Google ranking keywords for your website, ensuring it appears prominently in search results, attracting organic traffic and broadening your audience.
Enhanced Online Visibility: A well-designed website boosts your online presence. We create websites that are visually appealing and search engine-friendly, making it easier for potential clients to find your services. This increased visibility leads to more inquiries and, ultimately, more sales.
Customised Solutions: Every electrical business is unique. Our website designs are tailored to your specific needs and branding, ensuring your website reflects your company's identity and values. We create responsive websites that work seamlessly on desktops, tablets, and mobile devices.
Conversion Optimisation: We design websites with the goal of converting visitors into customers. User-friendly layouts, clear calls to action, and compelling content are integral to our strategy, maximising conversion rates and resulting in more sales for your electrical business.
Content Creation and Maintenance: As experienced content creators, we generate engaging, informative, and SEO-optimised content for your website. We also offer content maintenance services, ensuring your site is always up-to-date with the latest electrical trends and services.
Website Design and Revamp Services
New Website Design: If you're starting from scratch, we'll create a website that showcases your electrical services, expertise, and client testimonials, making it easy for potential clients to trust and choose your business.
Redesign/Revamp An Existing Website: If your current website is outdated and not performing well, our expert designers can revamp it, giving it a fresh look, enhancing functionality, and optimising it for search engines. This will breathe new life into your online presence and attract more customers.
Mobile Optimisation: As most users access websites on mobile devices, we ensure your website is fully responsive and functions seamlessly on smartphones and tablets.
E-commerce Integration: For electrical supply stores or businesses offering products for sale, we can integrate e-commerce functionality, allowing you to sell products directly through your website.
Maintenance and Support: We offer ongoing maintenance and support services to keep your website running smoothly and securely. This includes updates, security measures, and content management.
Don't miss out on the potential of a professionally designed electrician website. Contact us today to discuss your requirements and learn how we can transform your online presence to boost sales and increase your customer base.
Enhance your electrical business's online presence with a website that delivers results. Contact us today for a free consultation.
Best Electrician Marketing
Our marketing services for electricians are customised to empower electrical businesses in today's competitive landscape. Recognising the localized nature of the electrical industry, our strategies are designed to pinpoint your specific service area. We offer a suite of tools, from optimising search engine results (SEO) to establish a robust online presence, to implementing pay-per-click (PPC) advertising for immediate impact, and engaging with local customers through social media marketing. Additionally, we provide content marketing and website design services to showcase your expertise and instil trust with potential clients. With our holistic approach, our goal is to elevate your online visibility, generate leads, and ultimately foster the growth of your electrical business.